Pediatric Chiropractor in Dunwoody
Creating Healthy Families Begins With Children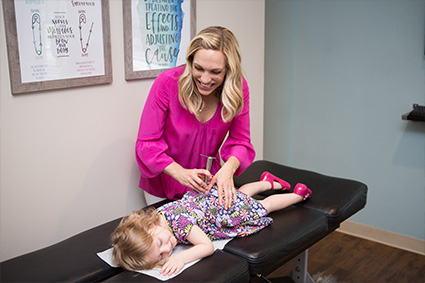 Pediatric chiropractic is all about giving our sweet kiddos the ability to develop and function optimally. We believe it's vital for kids to get off to a great start in life by maximizing that function.
It's been our experience that children under chiropractic care experience better immune system function, optimal neurological development and enhancement in both cognitive and motor skills.
Benefits of Pediatric Chiropractic
Here are just some of the benefits we've seen with treating children in our office:
Better digestion/resolution of constipation
Decreased allergies, asthma, colic and reflux
No more bed-wetting
Fewer colds and ear infections
Improved posture
Improved function with sensory processing disorders, ADD/ADHD, and ASD
Resolution of latching and breastfeeding issues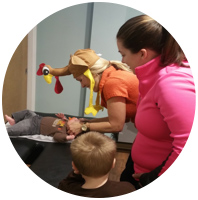 Jen & Rusty O'Pry have been bringing little Lawson to Compass Family Chiropractic since he was 7 weeks old. He had a HORRIBLE case of acid reflux that only slightly improved with the strongest prescription that their pediatrician could prescribe. Lawson was choking on his spit up all night long and gagging constantly. As a result, he wasn't sleeping deeply and was constantly crying. Lawson's reflux was so severe that he would reflux not only out of his mouth, but his nose as well (even on the medication).
After only a few adjustments, Jen and Rusty said they saw improvement! Lawson was sleeping 12 hours at night after only 3 weeks of care! 2 months later, they were able to cut his medicine dosage in half! After just 4 months of care, Lawson was healed and came off of his reflux medication completely!
Dr. Anne-Marie's caring touch is what makes her specialization in children so unique. Jen loves how she explains everything before she adjusts him (which is only a slight touch, not a crack). Lawson continues to get checked even though his reflux is gone because a healthy baby is a happy baby, and regular wellness adjustments keep his immune system strong!
– Lawson O.
Safe and Gentle Treatment
Whether your child is a newborn or still in high school, our care is safe, gentle and specific—no twisting, popping, or cracking. Our doctors have extensive experience in handling the unique issues that children face.
Parents trust our compassionate care, and we hope you will, too. Contact Compass Family Chiropractic today for a convenient appointment!

Pediatric Chiropractor Dunwoody GA | Compass Family Chiropractic | (770) 452-0022